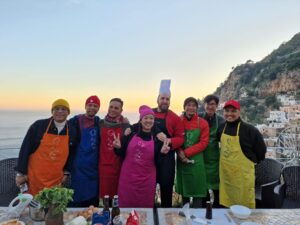 Do you want to  go on a cooking vacation in Italy? Imagine taking a cooking class in Italy while having the time of your life on a dream vacation to the Amalfi Coast. On these Amalfi Coast cooking vacations, every single cooking class is entirely hands-on and is completed in a group setting with friends. The best part is that you experience authentic coastal Italian provincial life in a stunning private villa with a view of the most stunning area of the Amalfi Coast, close to Amalfi itself and below Ravello. Throughout your vacation, you'll be cooking, singing, dancing, eating, drinking, unwinding, and having fun. You will learn some wonderful new cooking methods and techniques during the weeklong trip, as well as make lifelong friends.
It's the ideal way to learn to prepare delectable meals while taking a cooking vacation along the Amalfi Coast and learning about regional culture and cuisine.
Like Visiting Family in Italy
Each visitor is treated like a member of our own family. They experience the authentic coastal life that so few people actually do. They experience first-hand the passion for regional cuisine, Amalfi Coast food and wine, regional cuisine that is at the core of Italian culture. Amalfi cooking vacations provide an unforgettable glimpse into the charming culture of the country's coastal regions. We all become close friends because they are intimate and personal. We shop with the villagers, live among them, and travel like the Italians. We spend time getting to know the real local life in the less touristy towns of the Amalfi Coast in addition to seeing the famous sights that so many people want to see.
Cooking Lessons in Italy – Adventures You'll Remember For The Rest of Your Life
Cooking lessons in Italy are offered during the week as part of our vacations, with a focus on genuine regional cuisine and all using beloved hosts' family recipes. There is always something exciting and enjoyable going on when we are not in the kitchen. We sail to Positano's at sunset and toast with Prosecco while admiring the magnificent coastline. We have a private beach BBQ with the freshest catch of the day, we spend the day at Capri with our own boats, we make fresh mozzarella from scratch with a local cheese maker, and we celebrate with our new Italian family to live music, singing, and dancing.  We also stray from the path and take visitors to some of our favourite off-the-beaten-track locations that the majority of tourists never see, like the smaller, less popular towns along the coast and even a wonderful family winery in the hills.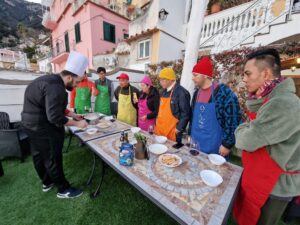 Concerning The Cooking Classes in Italy
Cooking classes are included in our Amalfi Coast Cooking Vacations. They are not performances. They are entirely practical cooking classes. As a result, you'll roll up your sleeves and start creating everything from scratch. You can take part in the cooking lessons to whatever degree you like if you prefer to spend more time sipping wine and eating Italian cuisine. Swim in the villa's pool, soak up the sun, and enjoy the breath-taking views. Enjoy the stunning scenery, stroll through the lemon groves, or visit Amalfi Coast.
Why Do Italians Cook?
Italy is a foodie's dream with its countless distinct regional cuisines and wines. You could encounter completely different flavours and fragrances if you travelled throughout Italy. Our cooking classes in Italy help you learn new techniques and new recipes.
Chef Antonio Italian cooking lessons It have been personally chosen by Studiainitalia; classes are held in fully functional kitchens with professional chefs teaching them. Cooking classes on Amalfi Coast provide practical classes where you can learn how to make traditional Italian dishes in a welcoming setting. For more information you can contact us.