Embark on a culinary odyssey in the picturesque village of Conca Dei Marini, where gastronomy meets paradise. Our enchanting cooking classes in Conca Dei Marini offer a warm and hearty welcome as you step into the realm of Mediterranean flavors. Upon your arrival, our passionate team of culinary experts will embrace you, making you feel right at home in this idyllic coastal haven.                                                                    
With their guidance, you'll dive deep into the heart of Mediterranean cuisine, uncovering the secrets of its rich and diverse flavors. Learn to create traditional dishes infused with the essence of this sun-kissed region, using locally sourced ingredients bursting with freshness. From the delicate art of crafting handmade pasta to perfecting the balance of aromatic herbs and olive oil, every moment in our kitchen is an opportunity to savor the essence of Conca Dei Marini. Whether you're a novice or a seasoned chef, our classes cater to all skill levels, ensuring an unforgettable culinary journey that tantalizes your taste buds and leaves you with cherished memories of this food lover's paradise. Come, let us guide you through the flavors of Conca Dei Marini.
---
Conca Dei Marini: Strolling Through Time-Honored Terraced Gardens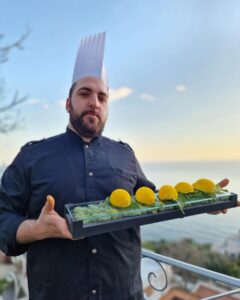 Begin your day with a serene journey through the timeless terraced gardens, an age-old agricultural marvel nestled within the captivating landscape of Conca Dei Marini. These centuries-old terraces stand as a testament to the region's commitment to sustainability and environmental preservation. 
As you wander through these enchanting gardens, you'll be treated to breathtaking views of lemon groves, olive orchards, and vineyards that have thrived for generations, serving as the very heartbeat of this remarkable locale.
Our expert guides, steeped in the lore of these terraced gardens, will enchant you with tales of their historical and culinary significance. Discover the secrets behind the cultivation of the succulent lemons used in our world-renowned Limoncello. Gain an understanding of the meticulous process behind the creation of exquisite olive oil, and savor the traditions of winemaking that have produced delightful local wines.
This immersive experience will not only delight your senses but also deepen your appreciation for the profound connection between nature, culture, and cuisine in Conca Dei Marini. Join us on this captivating journey through the essence of Mediterranean life, where every step tells a story of tradition and sustainability.
---
Into the Garden: Harvesting Freshness for Culinary Creations
Prepare to get your hands dirty as we delve even deeper into the heart of our culinary adventure. After donning your gloves and grasping wicker baskets, you'll step into the vibrant vegetable garden, where a world of freshness awaits. Here, you'll partake in a truly unique experience, hand-selecting the ripest seasonal vegetables and plucking fragrant herbs from their beds. 
These carefully chosen ingredients will be the very foundation of the mouthwatering dishes you're about to create. Under the guidance of our expert chefs, you'll learn the art of transforming these garden treasures into culinary masterpieces. From vibrant tomatoes and crisp cucumbers to aromatic basil and rosemary, you'll discover how to blend flavors and textures to craft dishes that capture the essence of Conca Dei Marini.
This hands-on experience not only connects you with the source of your food but also deepens your appreciation for the freshness and authenticity that defines Mediterranean cuisine. Get ready to embark on a culinary journey where your senses will be awakened by the vibrant colors, scents, and tastes of our bountiful vegetable garden.
Our Cooking Classes in Conca Dei Marini: An Epicurean Voyage
Chef Antonio's cooking classes offer an immersive experience that combines hands-on learning, local exploration, and, of course, indulgent dining. Here's what you can expect from our culinary classes:
Warm Welcome: Your culinary adventure begins with a warm and hearty welcome from Chef Antonio and his team. As you step into the world of Mediterranean cuisine, you'll instantly feel at home in the charming surroundings of Conca dei Marini.
Exploring Local Gardens: The day often starts with a leisurely tour of Conca dei Marini's iconic terraced gardens. These centuries-old gardens showcase sustainable cultivation methods and provide a glimpse into the region's agricultural heritage. You'll have the chance to marvel at lemon groves, olive orchards, and vineyards while learning about their significance in Mediterranean cuisine.
Harvesting Freshness: Roll up your sleeves and immerse yourself in the heart of our culinary experience as you gather the freshest seasonal vegetables and aromatic herbs from our bountiful garden. These ingredients serve as the cornerstone of the delectable dishes you'll learn to prepare.
Cooking Classes: Under Chef Antonio's expert guidance, you'll embark on a culinary journey where you'll learn to craft traditional Italian dishes infused with the essence of Conca dei Marini. From handmade pasta to the perfect balance of aromatic herbs and olive oil, each class is a hands-on opportunity to master the art of Mediterranean cooking.
Savoring the Creations: After the cooking is complete, you'll have the pleasure of savoring the dishes you've prepared. Share a meal with newfound friends, and savor the fruits of your labor while enjoying the picturesque views of the Amalfi Coast.
Limoncello and More: Discover the secrets behind the creation of world-famous Limoncello, exquisite olive oil, and delightful wines. Gain insights into the meticulous processes that transform these locally sourced ingredients into culinary delights.
Personalized Experience: Whether you're a novice or an experienced chef, our classes cater to all skill levels. Chef Antonio ensures that each participant receives personalized attention, making this a memorable experience for everyone.
Book Your Culinary Adventure Today in Conca dei Marini
Prepare yourself for a culinary odyssey like no other! Chef Antonio Satriano Casola invites you to Conca dei Marini, where the art of food meets the splendor of the Amalfi Coast. Whether you're an intrepid solo traveler, a couple in search of a romantic escape, or a group of friends seeking a delightful adventure, our cooking classes offer an unforgettable experience.
Chef Antonio's classes promise not just the joy of cooking but also a profound connection to the heart of Mediterranean cuisine. Dive into the world of flavors, aromas, and traditions that define this enchanting region. Discover the secrets of crafting exquisite Italian dishes using locally sourced, seasonal ingredients. Don't miss your chance to be part of this enriching, fun, and delicious journey. Book your class today and let your senses revel in the culinary treasures of the Mediterranean, all under the expert guidance of Chef Antonio. Your unforgettable adventure awaits!
                           "Cooking with a View: Conca Dei Marini's Finest Culinary Experience!"
Do you want to know more?
Contact me
By filling out the form you can contact me and request all the information you need! I will answer you as soon as possible … I am waiting for you!
Phone – +39 3341711330
Email – antoniosatriano94@gmail.com
Address – Positano, Amalfi Coast, Italy