Indulge your culinary passions and dive into the rich gastronomic culture of Italy with cooking classes in Maiori, the charming town nestled along the breathtaking Amalfi Coast. Maiori is renowned for its stunning coastal vistas, enchanting architecture, and delectable cuisine, making it the perfect backdrop for a culinary adventure. These cooking classes in Maiori are thoughtfully designed to accommodate all levels of expertise, welcoming both beginners and seasoned cooks.                                                                                                                           
The experience is nothing short of amazing, as you embark on a journey of flavors, techniques, and cultural immersion. Led by gracious and skilled chefs, these classes offer a hands-on approach, allowing you to learn and create authentic Italian dishes from scratch. From mastering the art of crafting homemade pasta to perfecting the balance of flavors in regional specialties, each class is an opportunity to expand your culinary repertoire. The intimate setting of the chef's kitchen provides an immersive learning environment where you can ask questions, gain insights, and refine your skills. Plus, sharing this experience with fellow food enthusiasts adds a sense of camaraderie and joy to your culinary journey. Cooking classes in Maiori are more than just lessons; they are a gateway to a deeper appreciation of Italy's culinary treasures. As you savor the fruits of your labor, you'll carry the flavors and memories of Maiori with you, making this experience truly unforgettable.
---
Italian Culinary Excellence: The Fame of Cooking Classes in Maiori
Cooking classes in Maiori have gained fame in Italy for several compelling reasons. First and foremost, Maiori's location on the Amalfi Coast places it in the heart of Italian culinary excellence. The region boasts an abundance of fresh, locally sourced ingredients, including sun-ripened tomatoes, fragrant basil, and exquisite seafood, all of which are essential elements in Italian cuisine.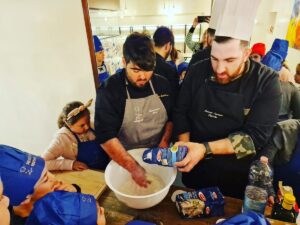 Their commitment to preserving and sharing authentic Italian culinary traditions sets Maiori's cooking classes apart. Instructors often have deep-rooted connections to the region, allowing them to pass down time-honored recipes and techniques that have been cherished for generations. Participants have the unique opportunity to learn from passionate chefs who take pride in their craft and are eager to impart their knowledge.
Maiori's picturesque coastal setting adds to the allure. The breathtaking views and serene ambiance create a memorable backdrop for culinary exploration. The town's warm hospitality and welcoming atmosphere make visitors feel like they are part of a close-knit community.
Moreover, the classes cater to a wide range of skill levels, making them accessible to both novice and experienced cooks. This inclusivity ensures that anyone, from aspiring home cooks to seasoned gastronomes, can partake in and appreciate the art of Italian cuisine.
The fame of cooking classes in Maiori lies in their dedication to preserving culinary heritage, utilizing premium local ingredients, and providing an enriching, immersive experience that captures the essence of Italian cooking and culture.
---
Culinary Excellence: Chef Antonio Satriano Casola's Cooking Classes in Maiori
Embark on the culinary journey of a lifetime by enrolling in Chef Antonio Satriano Casola's Cooking Classes in Maiori. Chef Antonio is a revered expert in Italian cuisine, and his classes offer a unique opportunity to enhance your culinary skills while immersing yourself in the flavors of the Amalfi Coast.
Chef Antonio's classes are designed for individuals of all skill levels, from beginners eager to learn the basics to seasoned cooks looking to refine their techniques. With a deep-rooted connection to the region and a commitment to preserving traditional Italian flavors, Chef Antonio emphasizes the use of locally sourced, fresh ingredients, ensuring an authentic experience. During these hands-on classes, you'll discover the secrets behind crafting exquisite Italian dishes, from handmade pasta to succulent seafood creations. Chef Antonio's warm and approachable teaching style fosters a supportive learning environment where questions are encouraged, and culinary curiosity is celebrated.
Beyond the kitchen, Chef Antonio's classes provide insight into the rich culture and history of Maiori, making your culinary journey both educational and enriching. Join Chef Antonio Satriano Casola's Cooking Classes in Maiori to not only elevate your cooking skills but also savor the essence of Italian cuisine on the stunning Amalfi Coast.
Realize Your Culinary Aspirations with Cooking Classes in Maiori
Embark on the culinary journey of a lifetime in the picturesque town of Maiori, where your culinary dreams can come true. Our Cooking Classes in Maiori offer a delightful opportunity for individuals of all culinary backgrounds to immerse themselves in the world of Italian gastronomy.
Under the expert guidance of Chef Antonio Satriano Casola, you will unlock the secrets of crafting delectable Italian dishes using the finest locally sourced ingredients from the breathtaking Amalfi Coast. Whether you're a novice seeking to build a solid culinary foundation or an experienced cook looking to refine your skills, our classes cater to your needs.
For further details and to quench your curiosity, please feel free to contact us. We are here to address your queries promptly, providing you with all the information you require. Your culinary adventure begins with a simple message or call. Don't delay; reach out today, and let us help you turn your culinary dreams into a delicious reality. We eagerly await your inquiry and can't wait to welcome you to Maiori, where an epicurean odyssey awaits!
  "Discover Amalfi's Flavorful Secrets with Maiori's Cooking Classes!"
Contattami
Compilando il form potrai contattarmi e richiedere tutte le informazioni di cui necessiti! Io provvederò a risponderti il prima possibile… Ti aspetto!
Telefono:39 3341711330
Email – antoniosatriano94@gmail.com
Address – Positano, Amalfi Coast, Italy